Exersoles and Levi Cords
Topic: Blog Fodder
I stopped by to visit Blog Fodder, a game I used to play. But the last entry was done in July. Guess I'm a little late, but better late than never.....
So anyway...
What fashion trend you followed was very cool then, but now looks
ridiculous? Karen wanted to know.
My first thought was:
Exersoles & Levi Cords.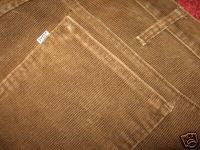 It was the 80's and I wouldn't be caught in anything but…. OMG, or better yet, WTF!
Exersoles were "earth shoes" of sorts, made by Thom McCann (remember them?), they had thick rubber soles and the cool thing was to write all over the soles, which were over an inch thick so you could see them well.
Although I couldn't find an exact photo, they were similar to these:

Only the soles were even fatter... more like these:

Ugh. Oh and another one:
How totally bodacious we were in our mini skirt with lacy ankle socks and high heeled pumps!
And… how about Leg warmers!
The 80's were just so… so… I can't even find the words. I would be willing to bet those fashions will come back soon though.
Posted by chrisseas-corner at 10:07 PM EST
Updated: Saturday, 15 December 2007 5:56 PM EST