Game Night #1
Topic: Samantha n Company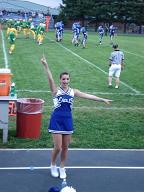 Colleen & I had a great time watching Sami's first home JV Football game last night. We met at the store next to the school a few minutes before it began and Col followed me over to the game. We arrived just in time ~ the girls were lining up and the teams were ready to play! I learned that Colleen wasn't much of a football fan, she never really understood the game, but I knew she would still enjoy it. I, myself, love football, having spent many a Sunday watching professional football with Samantha's father, back in the "ole days". It's even funner being in the stands. As Colleen said, the environment is very nostagic, complete with stadium food, fans, & family members. Many members of the Varsity Team were there to give their support and cheers, watching their little brothers and sisters, their protege's, with much Eagle pride!
The girls did great! WATCH SAMI CHEER. (This is a U-Tube link, but I unfortunately don't know how to enbed it, sorry... Samantha is the one, if your looking at the screen, to the right of the water coolers).
The game was pretty close. The visiting team stayed ahead by 6 points for most of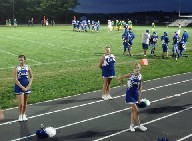 the 1st half, but during the last period the Eagles came back to tie it up and it went into overtime. Once it started to get a little exciting, Colleen and I quite talking & I tried to teach Colleen how the game worked, 1st down, 2nd down etc. She eventually "got it", or at least she said she did. The darker it got, the more exciting it got. There's something about stadium lighting that just gives you that special feeling.... don't you agree? The crowd was going wild as they won the game by a touch-down!
We got home around 10 p.m. Late for a school night, but well worth it! Stay tuned next Friday for Game Night #2.
Posted by chrisseas-corner at 4:11 PM EDT
Updated: Friday, 12 September 2008 5:23 PM EDT